HOW TO UNLOVE A MAN 2!
So what happened to the days of lovey-dovey?
He doesn't call you as often as he used to does he? No.
Maybe he doesn't even call you anymore.
Now he prefers the company of others because you seem like a broken record to him and when you try to enquire why he stays out late, he feigns anger claiming his an adult and can live his life as he pleases.
Wonderful!
When you chat him up, unlike before, it takes 2 days to reply your message.
Great!
He has suddenly become a stranger because he rarely spends time with you.
He always claims to be busy like all the time he was chasing you around town back then, he wasn't employed.
His job is now of more importance.
Funny enough he acts so nicely to other ladies and female friends but forgets how to smile when he sees you.
Everyone you try to confide in tells you, "He may be going through a rough time, hold on to your man, men are scare!"
When you try to reach out to him to know what's wrong he complains that you're probing too much and should give him some space.
He has gone as far as abusing you verbally, emotionally, psychologically and has threatened to go physical if you don't let him be.
This is seriously getting you worked up and you are gradually losing it.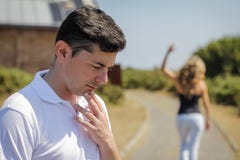 My Darling Sister, listen to me, you are very important to me and your sanity is necessary for your existence.
Let me tell you what no one else will tell you, any man that treats you this way does not deserve you!
Please take your focus off him because he is not the source of your joy or happiness.
Your happiness lies in your hands and you alone can determine how you feel.
Get on your feet, dry your tears and decide to be happy.
No man is worth the aggravation.
Two things you must do to unlove a man:
1. Fall in love with you.
2. Keep yourself busy with things that make you happy!
Do you agree?
Please feel free to share your thoughts and yes, there's more.
Drop your comments if you want more.
Photo Credit: Ilovemylsi.com
© Onyinye Udeh